Hair Removal For Men – Tips and Options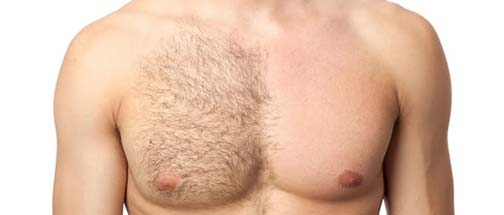 Now at days, hair removal for men does not only mean shaving only a beard or mustache.  Getting rid of unwanted body hair has become a very popular trend over the last decade.  Even women's preferences have evolved, and many of them now prefer their men to be hair-free and smooth to the touch.  It's not only the bodybuilders and swimmers who are choosing to get rid of body hair either – based on our reports, the common man is more interested in hair removal than one might have assumed!
Male body hair is different from the body hair of women.  Men usually have much thicker and coarser hair that can sometimes prove more difficult to get rid of.  We surveyed many men and have found that 72% of them do not want to get rid of all their body hair – they simply want to thin it out or get rid of hair in specific areas like the chest or back.
Let's review a few different tips and options of hair removal for men:
1. Laser/IPL hair removal treatment for men:
Laser/IPL treatments are used as long term "permanent" hair removal for men.  IPL is a light energy that penetrates the surface of the skin and reaches the root of the hair follicle.  We ran a survey of men who have tried Laser hair removal and have found a few things:  While is does reduce the amount of hair as well as the thickness of hair, 96% of men noted that it has not gotten rid of hair permanently.
In addition, because of the thickness of male body hair, the strength of the laser needs to be stronger than the strength used on a women.  Many men have found the pain to be more than they expected to tolerate.
Treatment cost: Many of the laser hair removal clients spent over $4,000 and needed to have over 8 treatments.  When asked if they would recommend laser hair removal to their friends, the majority said they would not due to costs and ineffective results.  In order for the hair to remain thin and slow going, once a year or more treatments may be necessary.
2. Waxing hair removal for men:
Waxing is completely different from laser hair removal.  Waxing, or sugaring – is a hair removal trend that involves spreading warm wax onto the desired area, then applying a strip over the area, rubbing the strip, and in one quick motion- ripping the strip off in the opposite direction of hair growth. Generally, wax hair removal for men can last up to 6 weeks. Hair will grow less and less with each waxing session as the hair follicles become weaker and weaker.  As the hair follicles weaken, the waxing sessions become less painful.
Waxing with an all-natural sugaring product is a great alternative to those wishing to stay away from harsh chemicals and lasers.  Most sugaring products are made with all natural ingredients such as lemon and sugar and leave little to no irritation.
Waxing can be a little painful, especially if it is your first waxing treatment. With hair removal waxing or sugaring- the pain will be reduced with each waxing treatment. Your hair follicle will get use to the hair pulling and become weaker and weaker. You may also experience some redness for up to one hour after waxing.
Treatment cost: If you are a man planning on getting waxed at a salon, the cost can range from $10.00-$80.00 depending on the area. If you do plan on getting waxed at a salon there is one very important thing that you must check for:  Sanitation.  Many "professional" salons will "double dip" into their wax jar – meaning that they use the same wax or sugaring product client after client.  This is dangerous and can lead to infection or disease.
Some men might be embarrassed about getting waxed at a salon, and the best bet for those men is an at home waxing kit.  You can easily get rid of hairs in those unwanted areas on your own, or you can ask a friend or partner to help you out.  Also-  you are saving yourself the risk of getting an infection due to the "double dipping" tactics that salons usually employ. Did we mention that some waxing kits are extremely cost effective?
3. Hair Removal cream for men:
Hair removal creams for men provide results that are almost identical to shaving. It takes your hair one to three days to grow back. In addition, new hair grows back in rough stubble, just like shaving.  With creams, the users may be left with a visible "shadow" of dark hair under skin. Hair removal creams can also cause rash and ingrown hairs due to the harsh chemicals that are typically used. As to the pain level, hair removal cream is the least painful hair removal method.
hair today…
Between the various hair removal trends for men, there is no reason for a guy to let his body hair grow out of control and attract negative attention.  Out of all the methods discussed, an at-home waxing kit is your best bet for cost-effective, natural, and safe hair removal that will show you true results.
@vidasleek on instagram
Best Selling Products