Below-the-Belt Landscape: Changing Trends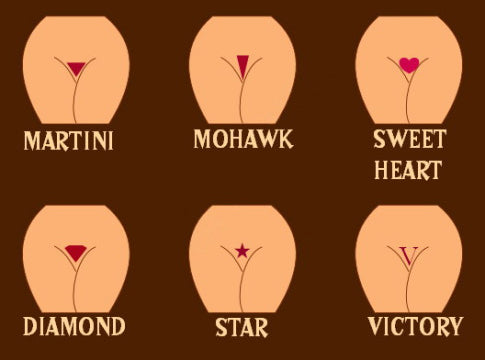 Whether you're waxing for the first time or are an old pro, the truth is that body hair removal isn't nearly as personal as you might think it is! While smooth legs and underarms have been a recurring standard for women for about a century now, the neatly groomed bikini area that is now in vogue is a relatively new trend – one that has changed quite a bit since it first exploded onto the scene. No matter what choice you make – and even if you like to mix it up with several different options – VidaSleek makes below-the-belt hair removal safe and easy.
The Old Days: Unrestricted Hair Growth
Women have been routinely shaving their legs and underarms since Gillette used advertising to popularize the practice in the early 20th century. But restrictive clothing and social stigmas about sex meant that the nether-regions went largely ungroomed. A small group of women may have removed their pubic hair, but the practice was anything but common, and certainly wasn't expected.
The Advent of the Brazilian Wax
In the 1990s, the Brazilian bikini wax got a big boost thanks to the mainstreaming of pornography. As you might expect, the trend started with young women who wanted to keep up with the women they saw in pornographic movies – as well as the advice they read in magazines such as Cosmopolitan.
But the trend quickly spread far and wide. Getting a Brazilian wax became a status symbol, and more and more women began shaving their pubic hair. By the late 1990s, hair removal technologies had improved so much that even some men began removing their pubic hair. Pubic hair removal never became the "standard" for men, though between 10% and 30% of men continue to report removing their pubic hair, depending upon which poll you believe.
Pubic Hair as Personal Expression
As the new millennium rolled around, changes were afoot. Women began complaining that pubic hair removal was expected in the dating world, and pointed to the intense burden this hair removal demands. Now, there's no single fashion when it comes to below-the-belt hair removal. Instead, pubic hair has become a form of personal expression. We've seen a number of pubic hair fads in recent years, from light landscaping to dyeing the hair bright and unnatural colors. Some women even use stencils to shape their pubic hair into hearts.
The Choice is Up to You
At VidaSleek, we believe it's up to you to groom your pubic hair how you see fit; we don't think you should give into pressure from partners or fashion magazines. But we also know that many women steer clear of this sort of grooming because they're worried about pain, ingrown hairs, and skin breakouts. Our all-natural products are perfect for sensitive skin, offering gentle hair removal that won't leave an irritated mess of skin in its wake. We embrace whatever below-the-belt landscaping choice you make – whether it's a puffy bush, a barely-there landing strip, or totally bare.
@vidasleek on instagram
Best Selling Products