Male Waxing 101 – Brow Waxing, Boyzilians, and Other Male Body Waxing Methods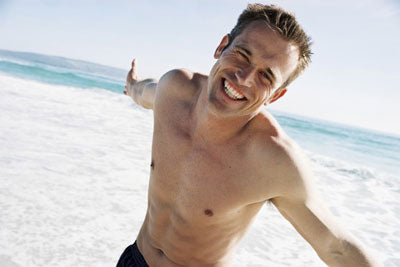 Even though women are usually the ones heading to the salon for a waxing session or doing sugar waxing at home, there are many men who are also interested in getting rid of unwanted body hair. Waxing continues to be one of the most popular methods for men who want to get rid of unwanted body hair, and emerging trends include male brow waxing for shapelier and well-groomed brows, and "boyzilians" – the equivalent of a Brazilian wax for men. Waxing is a simple and effective way to achieve smooth, hair-free skin for several weeks and many people find that hair grows back slower after they have been waxing for a while.
Here's a closer look at a few of the most popular male waxing techniques used today:
Male Brow Waxing
Many men have bushy brows and can benefit from a basic brow waxing session that reshapes the eyebrows and creates more balance for the face. Male brow waxing is best done by a professional so that the brows remain shapely and are symmetrical. The waxing session can be combined with light tweezing to achieve the perfect brow shape based on the man's natural facial contours. The hairs are removed temporarily and may grow back less coarse after each session. Many men are now adding a basic brow waxing session to their grooming routine.
Boyzilians
This is an emerging trend among men and is simply the male equivalent of the Brazilian waxing treatment popular among women. The waxing session typically involves either a sugar waxing formula, sugar paste, or a hot or cold wax, and pulls the hair from the root. This can be somewhat painful the first time around because many men simply aren't used to waxing body hair on any part of the body. While the treated area can be especially sensitive, the Boyzilian is quickly becoming a popular option for men who want to get rid of unwanted body hair.
Body Waxing
Many bodybuilders, professional athletes, and men who are self-conscious about hair on their arms, legs, chest, and back will undergo a standard waxing session at a local spa or salon, or use a do-it-yourself home waxing kit. DIY kits can be a great option for those who want to get rid of unwanted body hair quickly and efficiently. A sugar waxing kit can be especially beneficial for achieving smooth and silky skin with minimal irritation and redness. Men who want to keep up with their hair removal routine with minimal stress can benefit from an at-home waxing kit and take care of their hair removal needs on their own schedule.
@vidasleek on instagram
Best Selling Products