The Expense of Waxing: Home VS Salon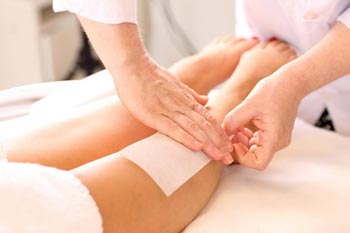 Waxing has become a popular form of hair removal for many reasons. Waxing lasts much longer than depilatories and shaving and can also be much less expensive—it is certainly less expensive than laser hair removal, which can cost several thousand dollars. If waxing is your preferred method of hair removal, you may be wondering what the most economical way to do it is. Should you purchase inexpensive wax in the store or online, or should you go to a salon and pay for professional services?
Salon services certainly create a more luxurious experience for waxing, but they also require you to plan ahead, pay elevated prices for the wax and waxing service, and require you to expose yourself to a complete stranger if you are getting a bikini or Brazilian wax. On the other hand, at home waxing can be messy, painful, and potentially expensive depending on what type you decide to get and how you order it.
Salon Waxing
Salon waxing sounds like an enjoyable experience to many people and a horrifying experience to others. Professionals that complete waxing services have been trained to do them and how to use the type of wax at their salon. Because of this, they should be able to complete the waxing service very quickly and relatively painlessly. A good wax technician will not need to repeat very many areas more than once or twice in order to remove the hair. This prevents irritation from constantly reapplying the product to skin that has become sensitive from the wax removing the top layer of dead skin cells and exposing the sensitive young cells underneath.
The training that salon waxing techs go through means they want to be well compensated for their expertise. Most wax is reasonably priced but it can be very expensive to have it done in a salon because you are paying for the experience and training of the waxing technician rather than just the wax. If cost is not a concern for you and you do not consider yourself shy, salon waxing services are probably the way to go. Although prices can vary greatly depending on what you are having done, where you live and the type of salon you have the services completed in, you can expect to pay anywhere from $40 to $100 or more for a salon waxing service. The exception to this is if you are only having your eyebrows done, this service is typically much less expensive because it is so quick to complete and covers such a small area.
Waxing at Home
Waxing at home may seem like a scary task to those who have never tried it, especially if they have never waxed before. Some may prefer to have it done professionally once or twice to get a feel for it before attempting it at home while others may be comfortable attempting it at home first, knowing they are in the privacy of their own home. Home waxing kits are generally inexpensive. Some of them can be heated in hot water, some come with fancy equipment that heats them, and others can simply be placed in the microwave to heat. There are also many kinds that do not require heating, which are a great option for people with hair that is easily removed. People with coarse, thick, or difficult hair will probably have better luck with wax that is applied directly to the skin. The pricing of home waxing kits can vary greatly just like salon services. However, waxing at home will likely only cost you $14 to $75 depending on the type of wax system you decide to use. These kits are also typically enough to complete several waxing sessions, making them far more cost effective than salon waxing services. After you have attempted home waxing a time or two, you will become much more efficient with the process and the mess and pain involved will be greatly reduced.
As you can see, there are benefits and draw backs to both waxing at home and waxing at a salon. Salons have high costs and can be embarrassing, but offer quick services without much pain and very little hassle. Waxing at home requires very little expense but may take some time to perfect. Many women that attempt to wax at home after years of waxing in salon and spending thousands of dollars wonder why they never tried to wax at home before. Waxing at home can be a great way to save money while still treating yourself to a luxury service that saves you time and skin irritation from daily shaving that you would otherwise need.
@vidasleek on instagram
Best Selling Products